With Valentines Day just a few days away, you're probably wondering what's the best gift that you can give for a friend or loved one who loves video games. If you're not familiar with the gaming scene, then it'll be difficult for you to find an item that he/she will love. So it's time to have a look at Amazon for some ideas!
It's Amazon to the Rescue this Time!
With websites such as eBay and Amazon, you can browse and shop for items within seconds. You don't have to waste time researching for what to give on Valentines Day.
Since you're looking for gaming items, then put that on your filter and check what the results are.
So What Am I Looking For?
Don't know what to look for? Don't worry, most of these e-commerce sites have recommendations that you check once you're logged in. Amazon, for example, is full of recommendations that you can read if you're interested in buying an item. Being the case, gaming items and accessories tend to be on the expensive side. Don't waste your money on an item that your loved one already has.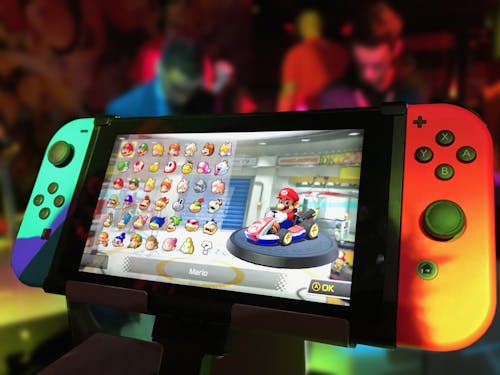 Amazon's Best Sellers for Valentines Day!
Since we're looking to buy the perfect Valentines Day gift, here are some of the hottest gaming items on Amazon's Best Sellers page:
amFilm Tempered Glass Screen Protector for Nintendo Switch – Have a boyfriend or girlfriend who has a Nintendo Switch? Make her the happiest person with these features. It comes with a 2x Glass Screen protector, wet wipes, a micro-fiber cleaning cloth, a squeeze card, and an Easy Installation Guide. That way, you and your loved one can install the glass screen protector without problems.
Orzly Carry Case Compatible with Nintendo Switch – Your Nintendo Switch needs a protective case not just for protection, but as a portable storage too. This Orzly Carry Case is the perfect item for that. Made from strong fabric and materials, this pouch can carry your Nintendo Switch and all other accessories inside without problems. It fits the Nintendo Switch tablet with both its Joy-Con controllers attached to it. An extra pocket on top allows the user to place an additional Joy-Con controller, cables, and games. All this for a good price of $13.99.
DualShock 4 Wireless Controller for PlayStation 4 – If your loved one has a PlayStation 4 and he's lacking one more controller for that game of Fortnite with you and some of your friends, it's about time that you get him or her an extra controller. For only $46.96, you can get a Jet Black Dual Shock 4 Wireless Controller with no extra hassles. This is also perfect for people who want to add more controllers for their PlayStation 4 console!
Smatree Xbox One Battery Pack x 2 + 200 mAh Rechargeable Battery for Xbox One – Thank the heavens for third-party Xbox accessories! This battery pack combines two rechargeable mAh batteries so you can enjoy playing your Xbox One for hours. The twin batteries also come with a charger. Say goodbye to buying multiple pairs of batteries for your Xbox One controller.
Happy Valentines to All!
And there you have it. Happy Valentine's day everyone! I hope you'll finally get that one item that your loved one will really appreciate. Just remember, it is always the thought that counts!